Choosing the right WordPress theme is one of the key points to have your WordPress website rightly set up. Especially when starting out as a blogger, the choice of theme can either simplify or make things a lot more complicated.
While the market for WordPress themes is huge and you will be spoiled for choice. It always makes sense to go for a theme that matches your needs and don't overthink on things. However, you may not be sure of your needs.
In this post, I will talk about some of the things that you should consider while choosing your theme and why the GeneratePress theme is a great fit.
GeneratePress is a theme that is not only beginner friendly but also popular with a lot of advanced bloggers and affiliate marketers.
And here I am only talking about the GeneratePress Premium theme. As a serious blogger, it makes sense to invest in a premium WordPress theme. Free themes will always be restrictive as their intent is to lead you to buy the premium version.
Let's now get to the factors that one should consider while selecting the theme and what makes GP a good choice.
While selecting a theme, you should consider the following factors at the minimum
Ease of use
Fast Loading
Customization options
Customer Support
Responsiveness
Economics
1. Ease of use
As a new blogger, you want to focus on content and not spend time figuring out technical aspects. Struggling to get formatting options right like the desired layout, fonts, colors etc. can be a lot of precious time wasted.
GeneratePress is designed to be user friendly and has a fast learning curve. It's a breeze to get things up and running with this theme. Most of the options are self-explanatory. And add to that -if you ever get lost or stuck, their support is awesome – we will talk about this in customer support.
They also have their own Youtube channel and some great documentation. Especially their support forum is a knowledge repository in itself. It is super active and you can see the premium users raising all types of queries. The answers are also accessible to general public .
Another good thing is a GP theme is a very popular theme across bloggers- and there is a lot of material written specifically on how to do things with GP theme.
It has a minimalistic feel to it and does not have any junk options.  The standard options are super easy relevant            
Site Identity – To add Site Name, Logo and icon
Layout – To format the layout like size and distance of website elements i.e. container (main body area), navigation, sidebars and footer
Typography – To choose font, font size, line height, margin for your website elements
Colors– To choose color for your site header, footer, headings, fonts etc.
Background images- Add background images to different website elements
General- General CSS options (don't worry, usually the default options are good as it is)
Menu- To customize primary navigation, footer menu options
Widgets- To customize any widgets you have added
Homepage settings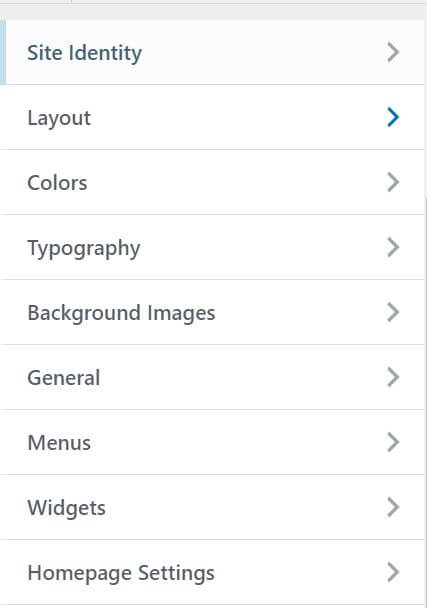 2. Fast Loading
Page load speed is a ranking factor that has been gaining more and more importance with Google. This is an area where I am super impressed with this GP theme. And its courtesy the founder-Tom Usborne who is known for writing clean and lightweight codes.
The theme is ultra fast to load and extremely lightweight. Tom has made a significant effort to keep only the necessary features and taken out the superfluous stuff.
On a default installation, the theme size on its own is less than 30 Kb.  That's super lightweight and if you don't mess it with many plugins, you can get a score of well in the 90s.


But at the same time, there are ton of customization options this theme offers. So you won't be missing out on features.
Tom Usborne has also developed great plugins like Simple CSS, GenerateBlocks, WP Show Posts etc. which are again lightweight and great add-ons for your site.
3. Customization Options
GeneratePress gives you a plethora of customization options to give your website the look you want.
You can do ton of customization like
Change font colors, sizes, style for your headlines (h1, h2, h3 etc) or body content
Completely customize your layout- You can choose to have full width blog without sidebars. Control space between container and sidebar. You can even apply unique layout for a particular page or post level or even keep different layouts for your posts vs pages
Have a full width hero header for your page
Make a sticky (or fixed on scroll) header or navigation
Customize header and footer section with widgets
One strong plus here is the Hooks Feature in GeneratePress. This feature makes it really easy to apply layouts or customizations across website using concept of elements and Display rules.
If you have GP theme and know how to use this feature, it quickly becomes a favourite to apply new customizations across your site.
Another customization offering is the Site Library which offers a collection of out of the box styles depending upon the type of blog you have.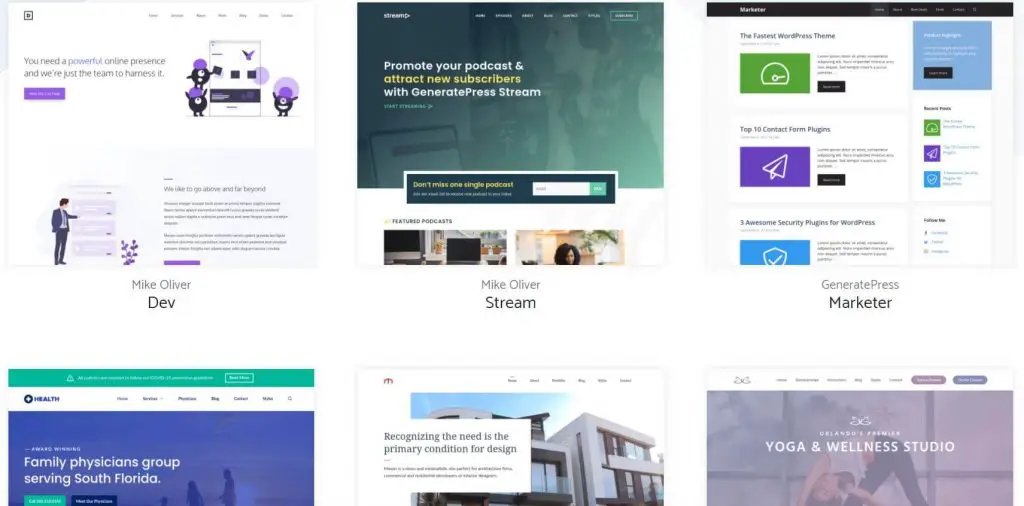 4. Customer Support
Another area where the GP theme shines is the customer support team. Once you have purchased GP theme, it really feels as if you are having GP team helping you with your website.
They have a support forum which is super responsive answering most queries in the same day. You may even find Tom Usborne (founder of the theme) himself answering some of the queries -along with 2-3 others who are super experienced and very helpful.
They go beyond just answering queries specific to the theme. And even provide solutions to queries you may have with your website – like how to achieve a particular look for your website or increase your page speed.
And you can see that in the volume of queries being raised and answered to satisfaction of most users.
5. Responsiveness
The ability to provide a great user experience across different devices is gaining importance with Google. Especially, nowadays where bulk of web traffic is coming from mobile.
Generatepress again scores great in this area.
All elements in GeneratePress are truly responsive out of the box. Add to that, you can even manually set layouts or choose to hide certain elements for mobile display.
6. Economics
The pricing is another under-rated area of the theme.
Consider this –
Generate press premium comes at a super affordable pricing of $59 with 1 year free updates.
With the kind of features the theme offers, this is a superb deal to have a robust full-fledged theme. And you can use the same license on up to 500 websites. If you are web designer or someone planning to have or managing multiple websites, this is as economical as it gets.
And generally users tend to fall in love with the theme and end up getting all their websites on the same theme. Even advanced bloggers making huge money with their blogs swear by the GP theme.
Not to mention that Tom is always improving the theme without compromising on keeping things light weight.
The theme has more than 1000 five star reviews on WordPress.org.
Final Word
GP is the preferred choice if you are looking for a no-nonsense theme. It is optimized for SEO, is budget and beginner friendly with excellent support.
And with the team behind the theme, you can only expect it to improve. It will ultimately be a choice you won't regret. I am personally using it on more than 6 websites and have never had a second thought about it.